Discover Berlins Hidden Treasures 2023
Introduction
When planning a trip to Berlin, Germany, it's important to identify the must-visit sites that capture the essence of this vibrant and historic city.
Berlin, known for its rich history, cultural experiences, and vibrant neighborhoods, offers a plethora of attractions that cater to all interests. Among the multitude of options, there is one site that stands out as the most important to visit in 2023.
Let's uncover the hidden gems of Berlin and discover why this site is an absolute must-see.
.
Historical Landmarks
Brandenburg Gate
The iconic Brandenburg Gate serves as a symbol of unity and peace in Germany. Standing tall at the end of Unter den Linden Boulevard, this 18th-century neoclassical monument is a true marvel. Admire its grandeur, learn about its historical significance, and capture stunning photographs at this landmark that witnessed pivotal moments in history.
Berlin Wall
The Berlin Wall, once a physical division between East and West Berlin, is now a potent symbol of the city's reunification. Visit the remaining sections of the wall, such as the East Side Gallery, adorned with vibrant murals created by artists from around the world. Immerse yourself in the stories of resilience and hope depicted on this historic canvas.
Reichstag Building
A visit to the Reichstag Building is an architectural and historical delight. This imposing structure is home to the German Parliament and offers a unique opportunity to witness Berlin's past and present. Take a guided tour to explore its iconic glass dome, offering panoramic views of the city, while learning about Germany's political landscape.
.
Museums and Galleries
Museum Island
For art and history enthusiasts, Museum Island is a treasure trove of knowledge. This UNESCO World Heritage site is home to several renowned museums, including the Pergamon Museum, where you can marvel at ancient artifacts and architectural wonders. Immerse yourself in the diverse exhibits spanning thousands of years and explore the rich cultural heritage of civilizations from around the world.
East Side Gallery
Located along a section of the Berlin Wall, the East Side Gallery is an open-air gallery that showcases a collection of captivating murals created by artists from different backgrounds. As you stroll along this vibrant stretch, each artwork tells a unique story, reflecting themes of freedom, unity, and social change. It is a testament to the power of art in transforming barriers into expressions of creativity and hope.
Pergamon Museum
The Pergamon Museum, situated on Museum Island, is a must-visit for history enthusiasts. Step into the ancient world as you marvel at the reconstructed monumental structures, such as the Pergamon Altar and the Ishtar Gate of Babylon. The museum's impressive collection of archaeological treasures from ancient civilizations will transport you back in time and leave you in awe of human ingenuity.
.
Cultural Experiences
Berlin Philharmonic
Immerse yourself in the world of classical music by attending a performance at the renowned Berlin Philharmonic. With its stunning architecture and exceptional acoustics, the Philharmonie is a testament to Berlin's dedication to the arts. Let the symphony orchestra's enchanting melodies and the conductor's mastery take you on a transcendent musical journey.
Berlin Opera House
For opera aficionados, a visit to the Berlin Opera House, also known as the Staatsoper Unter den Linden, is a must. Experience the magic of live opera performances in a historic setting that has hosted world-class productions for centuries. From passionate arias to captivating stage design, the Berlin Opera House offers an unforgettable cultural experience.
Berliner Dom
The Berliner Dom, or Berlin Cathedral, is an architectural masterpiece and a significant landmark in the city. Climb to the top of the dome for panoramic views of Berlin's skyline, and explore the opulent interior adorned with stunning mosaics, sculptures, and intricate details. Whether you appreciate the religious architecture or simply seek a tranquil moment, the Berliner Dom is a place of serenity and grandeur.
.
Parks and Gardens
Tiergarten
Escape the bustling city and find tranquility in the heart of Berlin at Tiergarten, a sprawling urban park. Stroll along its winding paths, rent a bicycle, or relax on a bench surrounded by lush greenery. The park's serene lakes, beautiful gardens, and iconic monuments, such as the Victory Column, provide a picturesque setting for a peaceful retreat.
Botanical Garden
Nature lovers will find solace in Berlin's Botanical Garden, a paradise of diverse plant species from around the world. Explore themed gardens, tropical greenhouses, and tranquil ponds as you immerse yourself in the beauty and serenity of nature. Whether you're a botany enthusiast or simply appreciate the calming effects of a lush garden, the Botanical Garden offers a rejuvenating experience.
Charlottenburg Palace Garden
Indulge in the splendor of the Charlottenburg Palace Garden, a baroque-style garden that complements the grandeur of the nearby Charlottenburg Palace. Take a leisurely stroll through its manicured lawns, discover hidden pavilions and statues, and marvel at the symmetrically designed flower beds. This idyllic oasis provides a glimpse into Berlin's royal heritage and serves as a picturesque backdrop for memorable moments.
.
Vibrant Neighborhoods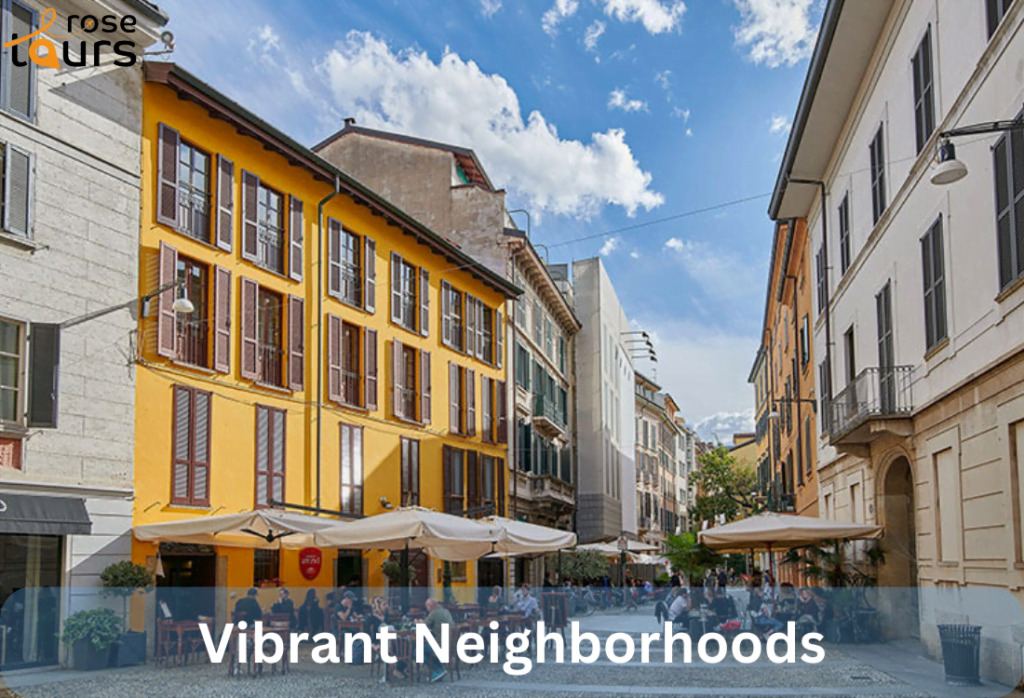 Kreuzberg
Kreuzberg, known for its diverse and lively atmosphere, is a must-visit neighborhood for those seeking a vibrant cultural experience. Explore its eclectic mix of street art, alternative bars, and international cuisine. Take a walk along the bustling Oranienstraße or unwind in one of the neighborhood's many parks. Kreuzberg embodies Berlin's spirit of creativity and freedom of expression, making it an ideal place to immerse yourself in the city's vibrant energy.
Mitte
As the central district of Berlin, Mitte offers a blend of history, modernity, and cultural attractions. Explore the historic Unter den Linden boulevard, lined with iconic landmarks, upscale shops, and renowned restaurants. Visit Museum Island, where you can delve into art and history, or wander through the trendy Hackescher Markt area, known for its fashion boutiques and vibrant nightlife. Mitte is the heart of Berlin, pulsating with life and offering something for everyone.
Prenzlauer Berg
Prenzlauer Berg is a charming neighborhood characterized by its picturesque streets, cozy cafes, and bohemian atmosphere. Explore its vibrant art scene, browse through unique boutiques, and unwind in the neighborhood's numerous parks. Prenzlauer Berg is also known for its family-friendly environment, making it a favorite among locals and visitors alike. Immerse yourself in the neighborhood's laid-back charm and discover hidden gems at every corner.
.
Culinary Delights
Currywurst
No visit to Berlin is complete without indulging in the city's beloved culinary creation: currywurst. This iconic street food combines a juicy pork sausage, sliced into bite-sized pieces, with a tangy tomato-based sauce and a sprinkle of curry powder. Savor the explosion of flavors and experience a true Berlin tradition at one of the many currywurst stands scattered throughout the city.
Döner Kebab
Berlin's multicultural influence is evident in its vibrant food scene, and döner kebab has become a staple street food enjoyed by locals and visitors alike. Sink your teeth into a warm pita filled with succulent grilled meat, fresh vegetables, and a variety of mouthwatering sauces. Whether you're exploring the city during the day or enjoying the vibrant nightlife, a döner kebab is the perfect on-the-go meal.
Beer Gardens
Embrace the German beer culture by visiting one of Berlin's traditional beer gardens. These outdoor venues offer a relaxed and convivial atmosphere, where you can enjoy a refreshing pint of local beer alongside hearty German cuisine. Share a table with locals, engage in lively conversations, and soak up the vibrant ambiance while creating unforgettable memories.
.
Nightlife and Entertainment
Berghain
For those seeking a unique and exhilarating nightlife experience, Berghain is a legendary club that needs to be on your itinerary. Known for its cutting-edge music, industrial architecture, and strict door policy, Berghain attracts music enthusiasts from around the globe. Dance the night away to the pulsating beats of renowned DJs and immerse yourself in the unparalleled energy of Berlin's electronic music scene.
Friedrichshain
Friedrichshain is a neighborhood that comes alive at night, offering a diverse range of bars, clubs, and entertainment venues. Experience the vibrant atmosphere of Simon-Dach-Straße, known for its lively bars and bustling crowds. Whether you're into live music, alternative clubs, or cozy pubs, Friedrichshain has something to cater to every taste and ensures an unforgettable night out in Berlin.
Alexanderplatz
As one of Berlin's central squares, Alexanderplatz is a hub of activity both day and night. Explore the bustling streets filled with shops, restaurants, and entertainment options. Take a ride on the iconic TV Tower, offering breathtaking views of the city's skyline. At night, the square transforms into a vibrant hub of nightlife, with bars, clubs, and theaters welcoming visitors until the early hours of the morning.
Shopping Paradises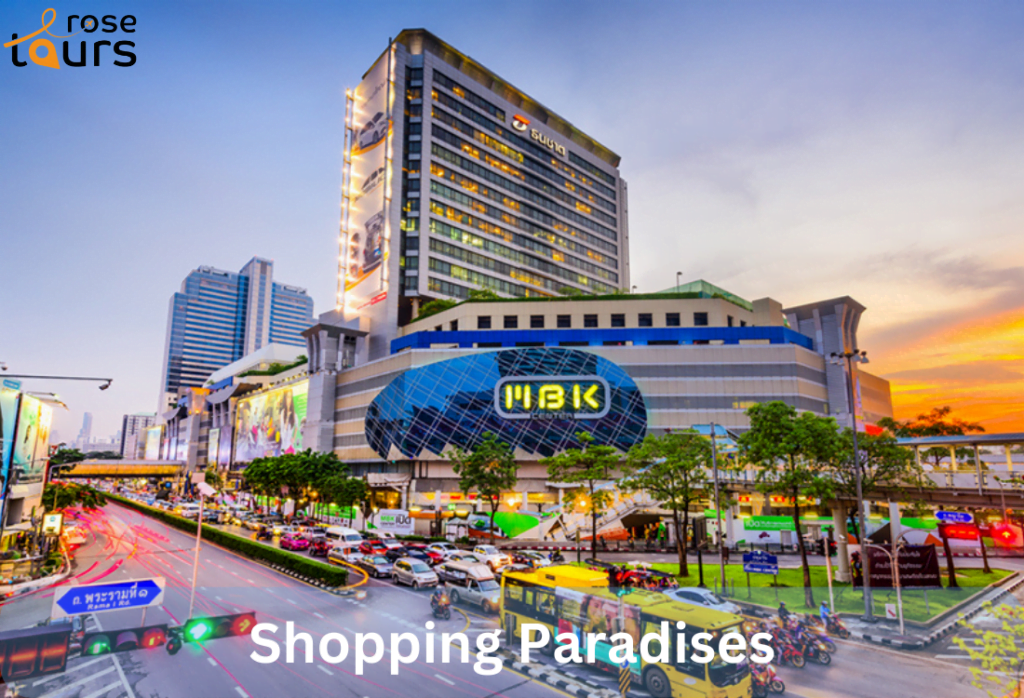 Kurfürstendamm
Kurfürstendamm, often referred to as Ku'Damm, is Berlin's most famous shopping boulevard. Here, you'll find a plethora of high-end boutiques, luxury brand stores, and department stores. Indulge in a shopping spree as you explore renowned fashion labels, jewelry shops, and designer stores. Ku'Damm is not only a paradise for fashion enthusiasts but also offers a vibrant atmosphere with cafes, restaurants, and cultural attractions.
Friedrichstrasse
Friedrichstrasse is another prime shopping destination, offering a mix of upscale boutiques, department stores, and specialty shops. From international fashion brands to exclusive designer labels, this bustling street caters to a discerning clientele. Take a break from shopping and enjoy a culinary delight at one of the gourmet restaurants or cafés dotted along Friedrichstrasse.
Hackescher Markt
For a more eclectic and artsy shopping experience, head to Hackescher Markt. This vibrant area is filled with small boutiques, independent shops, and unique concept stores. Explore the narrow streets and hidden courtyards, where you can discover local designers, vintage treasures, and one-of-a-kind souvenirs. Immerse yourself in the bohemian charm of Hackescher Markt and let your shopping adventure unfold.
.
Day Trips from Berlin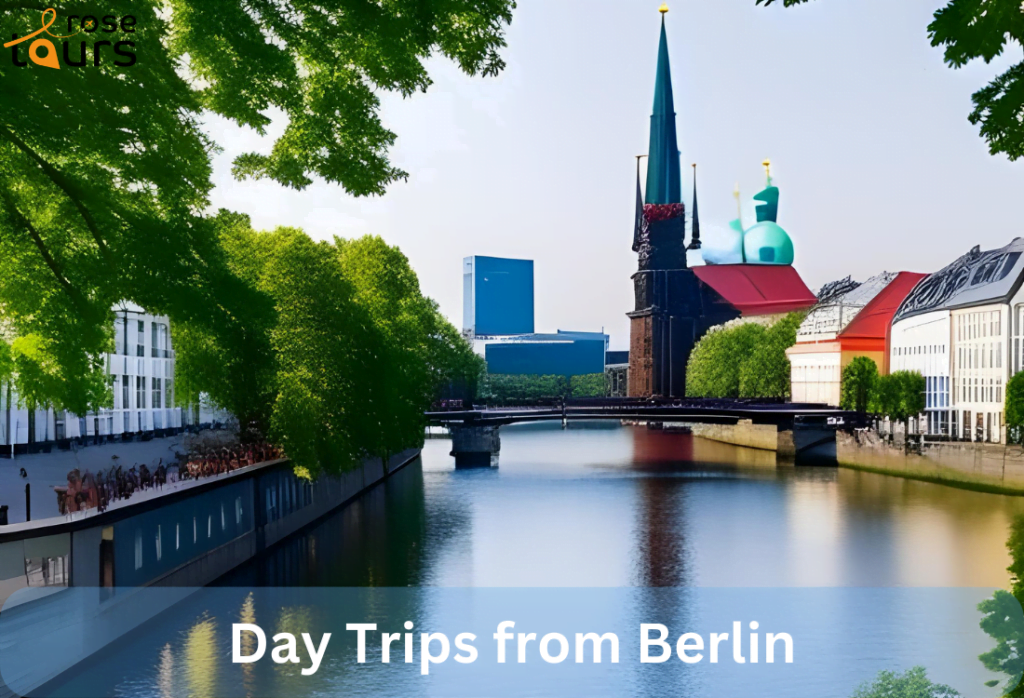 Potsdam
Located just a short distance from Berlin, Potsdam is a picturesque city that offers a delightful day trip opportunity. Explore the stunning Sanssouci Palace and its sprawling gardens, stroll along the Dutch Quarter with its charming houses, and visit the historic Cecilienhof Palace, where the Potsdam Conference took place. Potsdam's rich history, beautiful architecture, and tranquil ambiance make it a perfect escape from the bustling city.
Dresden
Venture a bit farther and discover the historic city of Dresden. Known as the "Florence on the Elbe," Dresden is renowned for its impressive architecture, including the iconic Frauenkirche and the Dresden Castle. Explore the fascinating museums, wander through the beautifully reconstructed Old Town, and enjoy the scenic views along the Elbe River. Dresden's cultural heritage and timeless beauty make it a captivating destination for a day trip from Berlin.
Sanssouci Palace
Nestled in the heart of Potsdam, Sanssouci Palace is a true gem that should not be missed. This stunning rococo palace, surrounded by magnificent gardens, was the summer residence of Frederick the Great, the King of Prussia. Explore the opulent interiors, stroll through the meticulously landscaped gardens, and be transported to a bygone era of splendor and elegance.
.
Transportation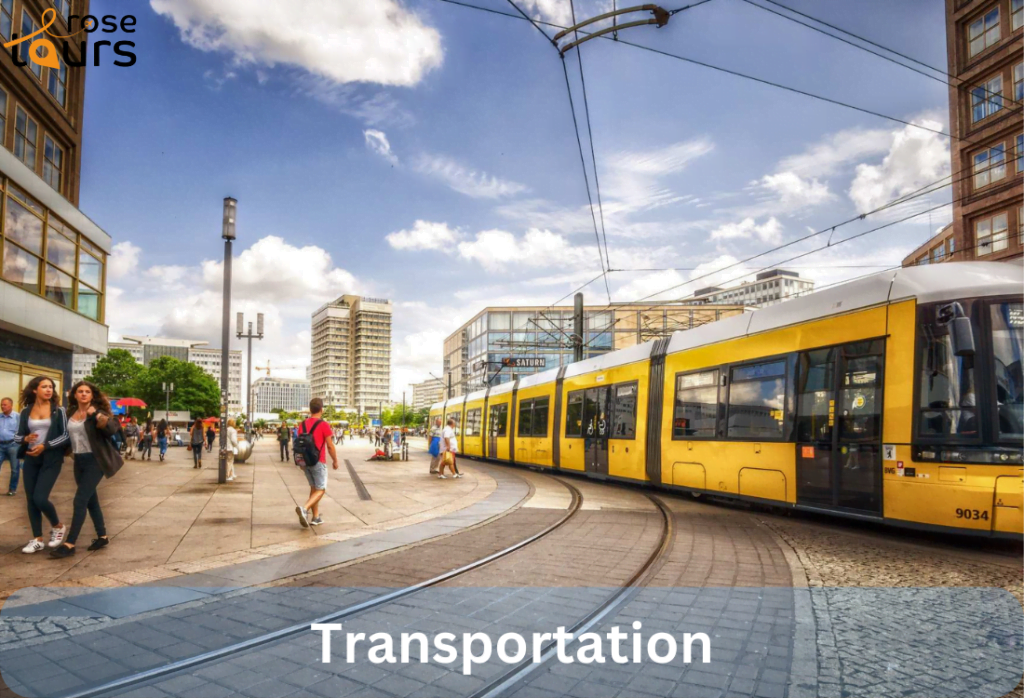 Public transportation
Berlin boasts an efficient and extensive public transportation system, making it easy to navigate the city. From the underground U-Bahn and suburban S-Bahn trains to buses and trams, you'll have no trouble reaching your desired destinations. Purchase a Berlin WelcomeCard to enjoy unlimited travel within the city's transportation zones and gain access to discounts at various attractions.
Bicycles
Berlin is a bike-friendly city with a well-developed network of cycling paths. Rent a bicycle and explore the city at your own pace, pedaling through parks, along the riverbanks, and across iconic landmarks. Cycling not only offers a unique perspective of the city but also allows you to embrace Berlin's eco-friendly and active lifestyle.
Walking tours
Discover the charm of Berlin on foot by joining walking tours that explore the city's history, architecture, and vibrant neighborhoods. Knowledgeable guides will lead you through hidden alleyways, share fascinating stories, and introduce you to the city's hidden gems. Walking tours offer a personalized and immersive experience, allowing you to soak in the atmosphere and uncover the city's secrets.
.
Accommodation Options
Hotels
Berlin offers a wide range of accommodation options to suit every budget and preference. From luxurious hotels with world-class amenities to cozy boutique hotels and budget-friendly hostels, there is something for everyone. Choose a hotel in the heart of the city for easy access to major attractions or opt for a tranquil retreat in the outskirts, surrounded by green spaces. Many hotels in Berlin combine modern comforts with unique designs, offering a stylish and comfortable stay during your visit.
Airbnb and Vacation Rentals
For a more personalized and home-like experience, consider booking an Airbnb or vacation rental. Berlin has a wide selection of apartments, lofts, and houses available for short-term rentals. This option provides the flexibility to have your own space, cook your meals, and live like a local. Whether you're traveling solo, with a partner, or as a group, Airbnb offers a diverse range of accommodations to suit your needs.
Hostels and Guesthouses
If you're a budget-conscious traveler or enjoy a social atmosphere, staying in a hostel or guesthouse can be a great option. Berlin has numerous hostels that cater to backpackers and budget travelers, offering shared dormitories or private rooms. Hostels often have communal areas where you can meet fellow travelers, share experiences, and make new friends. Guesthouses provide a cozy and intimate atmosphere, allowing you to connect with the local culture and receive personalized recommendations from your hosts.
.
Conclusion
Berlin is a city that captivates visitors with its rich history, vibrant culture, and diverse attractions. From iconic landmarks and world-class museums to lively neighborhoods and culinary delights, the city offers something for every traveler. Explore the remnants of the Berlin Wall, immerse yourself in the arts at Museum Island, indulge in delicious street food, and experience the dynamic nightlife. Berlin is a destination that will leave you with unforgettable memories and a desire to return.
.
FAQs
1. Is it safe to visit Berlin?

Berlin is generally a safe city for travelers. However, as with any major city, it's always wise to take precautions and be aware of your surroundings. Keep an eye on your belongings, especially in crowded areas, and avoid walking alone in deserted areas at night.

2. What is the best time to visit Berlin?

The best time to visit Berlin is during the spring (April to June) and early autumn (September to October) when the weather is mild and pleasant. These seasons offer comfortable temperatures for exploring the city and enjoying outdoor activities.

3. How can I get around in Berlin?

Berlin has an excellent public transportation system, including trains, buses, trams, and an extensive network of cycling paths. You can purchase a Berlin WelcomeCard for unlimited travel within the city's transportation zones. Walking tours are also a popular way to explore the city.

4. What are some must-try dishes in Berlin?

Apart from the famous currywurst and döner kebab, don't miss the opportunity to try other traditional German dishes such as schnitzel, sausages, pretzels, and the hearty potato dish called kartoffelpuffer. Berlin also offers a variety of international cuisines due to its multicultural influences.

5. Are there any day trips from Berlin worth taking?

Yes, there are several day trip options from Berlin. Potsdam, with its palaces and gardens, and Dresden, known for its historic architecture, are popular choices. Both cities offer a unique glimpse into German history and culture and are easily accessible from Berlin by train or bus.
.
Are you ready for the adventure of a lifetime? Tourism Traversals is here to help you make the most of your travel experiences! We have an array of exciting offers on flight reservations, hotels, cruises, taxis to and from the airport, car rental services, and much more.
Please take advantage of our unbeatable prices and explore the world with ease. We want to make your travel dreams a reality, whether you're looking for a luxurious getaway or an adventurous trip off the beaten path.
So why wait? Book your next adventure with Tourism Traversals today and let us take care of the details. From start to finish, we're here to support you and help you create memories that will last a lifetime. Don't miss out on our amazing deals – start exploring the world with Tourism Traversals today!
.